Night before last my sister, 2 nieces and nephew picked me up for a night of tricks and treats.

Some early Halloween fun

. First we visited the pumpkin patch, where we each picked out a gourd. I picked out one that looked half acorn, half toad stool (a Mini Red Turban). Then we anxiously headed over to the Enchanted Forest for a hay ride. We found it had been cancelled due to the rain we had earlier in the day :( We wondered if the little witch we were with had something to do with it, since she doesn't care much for water. The rest of us were really disappointed, but we were still in the mood for fun. So, we decided to go back to the the church near the pumpkin patch and "trunk or treat" in the parking lot. Not only did they have treats in their trunks, but a few tricks too. We were thirsty afterward, so we went inside to get refreshments and watch the Halloween costume contest/s.
T
hanks, gang - you really know how to show a gal a wicked good time
:D
By the time they dropped me off at my home; it was dark and drizzly. So, I emptied my mailbox to prevent soggy mail in the morning. That's when I was pleasantly surprised with an extra special treat. The book Gail Lackey had forewarned arriving -
I think she's psychic ;)
- was hidden in the handful of mail. It was a nice way to cap off the night.
Thanks, Gail!
:D
Her thoughtful presentation and personal touches lit my soul on fire. I foresee reading the spooky poems to my nieces and nephew when I see them again; for Halloween.
Shhhh... don't tell. It's a surprise
.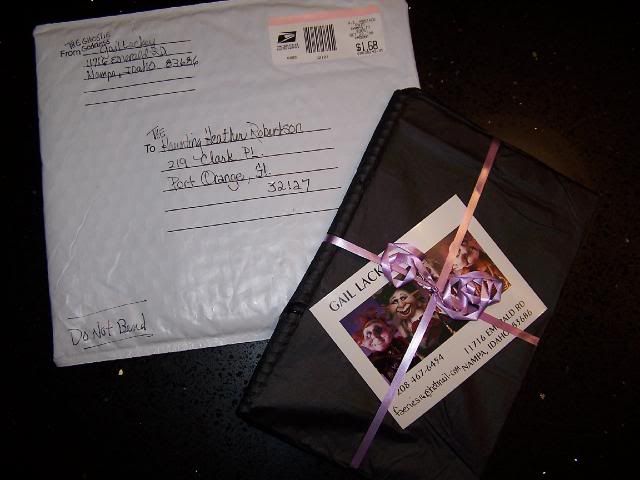 Have a fun Halloween, everyone!